We are on the surfing trail not out of choice but because the beaches along our route are great surfing destinations. El Tunco is a small surfing village in El Salvador where we spent a little time en-route to Guatemala, from there we will eventually wind our way up to Mexico's west coast. In the traditional language El Tunco means The Pig after a strange shaped rock that juts out of the shallows, but its shape has changed since it was named and it's now open to interpretation, above is how the surfer dudes must see it, but below is how it looked when we saw it.
The trip will be by shuttle bus, we will not take the chicken bus which could take about five times as long and involve many changes. Safety is also an issue as we will be crossing Honduras then El Salvador, these countries are renowned for having gangs with guns and there have been incidences on the normal / chicken buses recently so best to avoid them.
We leave Nicaragua having experienced the best surprise since Kurashiki, the little Japanese town we thought would be nothing special. We had no expectations but we saw and visited some fantastic places. With the exception of Managua, Nicaragua has the makings for a fantastic holiday, especially if time is of the essence. It has so much packed into a small area, the people are friendly, it has 20 volcanoes, lakes, wildlife, great food and cool little towns with bars and restaurants, there's much to do and very importantly it's not commercialized but just starting. If time is not an issue then there are seriously remote places like the Mosquito coast on the east (Caribbean) side of Nicaragua that look and sound amazing. We didn't get there on this occasion because the journey requires a labor of love with 10 hour chicken bus rides, fishing boats etc so maybe when we return some day.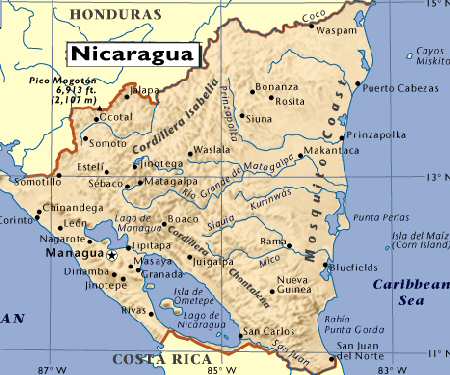 We set of at 2am from Leon, Nicaragua to make it to the Honduran border by day light, then into El Salvadore and El Tunco by early afternoon to avoid night time travel. Our fellow travelers were a bit less-than-fragrant hairy dudes most of whom were still covered in sand and had come straight from that night's hostel rave. We weren't sure if they knew each other but they were vibrationally aligned and the conversation flowed freely "Yeahh man I dig it so much, it was soooo cool dude and the chicks are awesome man, it was wild" you get the picture. It didn't last long and the 6'6″ Ozzie next to Malene kept nodding off on her shoulder. They were all really nice and the rest of the trip was quiet but we kept up-wind from the dudes when possible.
The crossings are a cinch as most countries of Central America have a Schengen style agreement but you still have to show documents and put-up with the wind and dust that fill your eyes at the check-points.
On the way my imagination run wild visualizing bandits blocking our path and wanting all our belongings, but the only incident was at a service station where two unpleasant individuals threatened the security guard with bottles, could have been the guard's automatic shot-gun or his 45 caliber revolver that made them eventually move on.
El Tunco was smaller and quieter than we expected with just a small stretch of surfer hostels, grungy bars and eateries. Our hostel was in the proces of perpertual construction and going by the washing haging around the pool looked like it doubled up as a laundry. It had AC and we made good use of the kitchen for our fruit, they had a soppy movie on the outdoor TV and the 'Take a Wok' noodle and rice place next door made a delicious stir-fry. What else could we want!
The sand is black and the waves keep rolling in, much of El Tunco's beach is full of round boulders on the high tide mark which made strolling along the beach somewhat hard. Not much happens here other than a bit of surfing and the 'vibe' but we are told it comes alive on the weekends with wealthy locals from San Salvador city.
Two days later we are back on the shuttle for the journey to Guatemala, we will have a police escort once we cross the Guatemalan border as it's not considered a safe stretch of road.
This time the shuttle was filled mostly with girls so the atmosphere was much more fragrant compared to the dudes. Approaching the border there was a string of trucks going back many kilometers and after clearing the exit control we had a narrow bridge to cross which lay between the borders, that too was packed with trucks.
Despite our driver's best efforts to squeeze and talk his way through we weren't going anywhere. The Police could not intervene as they have no jurisdiction between the crossings and after four hours night was setting in and safety was becoming an issue. The driver decided to return to El Tunco but again trucks attempted to stop traffic from leaving but the cops stepped in this time and we made the 2 hour drive back.
The next day most of it was a repeat except we made it across the bridge this time with a police escort all the way to Antiqua. Through our shuttle window Guatemala appeared to have all the mystery we've come to expect in these central american countries
After El Tunco and the mess at the border it was so nice when that evening we found the coolest little bar in such a very pretty town, we had pizza and aubergine stack and a few cold beers.